25 February 2020
Posted in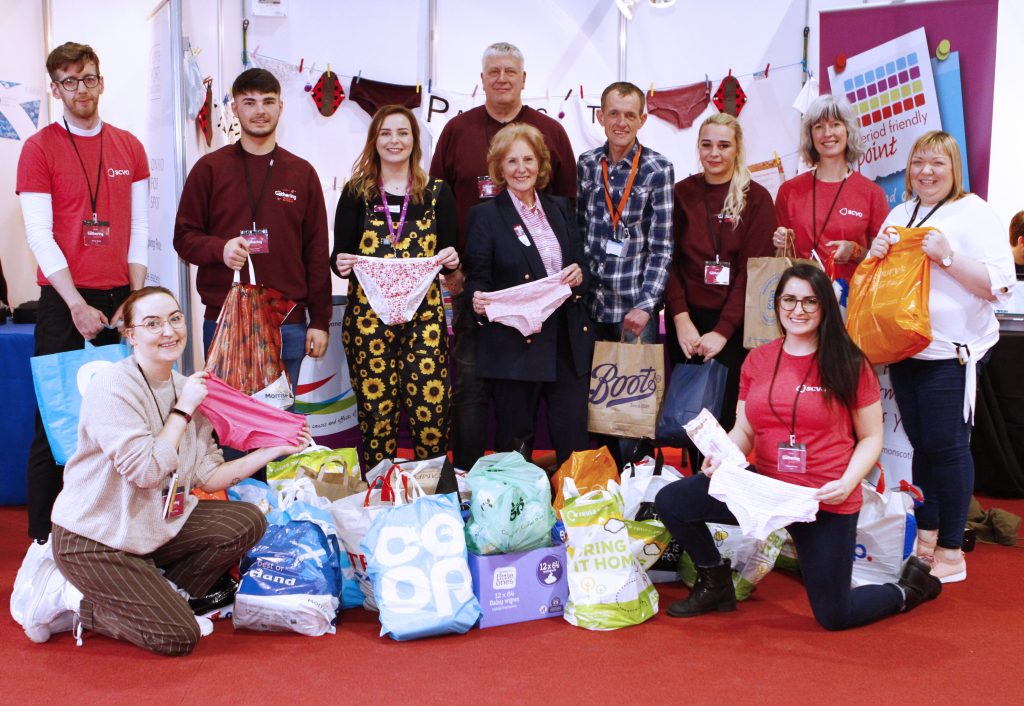 A national charity event held recently at Glasgow's SEC brought thousands of people together to donate items to Simon Community Scotland's Period Friendly Initiative.
The Gathering – now in it's 16th year – is a two-day annual event run by the Scottish Council for Voluntary Organisations (SCVO), and as the biggest free voluntary sector conference in the UK, attracts thousands of social enterprises, charities and voluntary groups to Glasgow each year.
Simon Community Scotlandworks to combat the causes and effects of homelessness, and recently published a study which identified that 70% of homeless women interviewed did not know how a period works because no one had ever taken the time to tell them. In an effort to offer a period of dignity where women know they don't have to ask or beg, they have set up 'Period Friendly Points' (identified by their distinctive 28-day calendar logo) across Glasgow, providing accessible and free sanitary products for homeless women, or any women in need. Each Point also carries a small stock of spare pants, travel wipes and disposal bags.
Gathering organisers felt that their event on 19 and 20 February would be the perfect place to raise awareness of the initiative and used the opportunity to encourage voluntary sector colleagues to donate sanitary items for both men and women at the Simon Community Scotland stand in the exhibition hall. Over just two days attendees managed to donate over 50 full bags of pants, toiletries and period products, which will now be used to help stock the Period Friendly Points across the city.
Anna Fowlie, Chief Executive of SCVO, said: "Asking our attendees to donate to one of our exhibiting charities is a fairly new concept that we introduced at our 15th Gathering last year, but it was so successful that we decided to continue it this year with Simon Community Scotland. Many places of work, such as SCVO offices, throughout Scotland already provide free sanitary products, and play a pivotal part in alleviating period poverty, so supporting the charity's 'Period Friendly' initiative to help provide these items so some of the most vulnerable people in our communities was a no-brainer for us. We were completely overwhelmed by the volume of donations and would like to thank our attendees once again for their generosity. We know Simon Community can put them to good use!"
Lorraine McGrath, CEO of Simon Community Scotland, said: "We are so grateful for the support of SCVO and the beyond-compare response of our friends and colleagues across the voluntary sector and beyond who attended the Gathering. The many, many donations of underwear and toiletries will make an immediate impact as we reach out to more vulnerable women across the country. We are always seeking new ways to reach those experiencing or at risk of homelessness and our Period Friendly Points and incredible Period Friendly Pal volunteers provide a key link to women at risk and to offer them a little sense of choice and control and that critical period of dignity.
Simon Community Scotland also announced this week their partnership with Glasgow City Council and Glasgow Life to increase the number of Period Friendly Points in Glasgow from 30 to 300 community venues over the next three years to tackle period inequality in the city.